OEF Joins Our Ocean Conference Commitments
Event Date:

Wednesday, October 4, 2017

to

Friday, October 6, 2017
Event Location: Malta


Since 2014, world leaders have participated in Our Ocean conferences and pledged voluntary commitments to address maritime issues like sustainable fisheries and climate change, in recognition that ocean health and human security are intricately linked.
One Earth Future is proud to participate in Our Ocean 2017, and to pledge a voluntary commitment. Through our programs Oceans Beyond Piracy, OEF Research, and Secure Fisheries, One Earth Future has committed funds over the next four years to produce the Stable Seas Maritime Security Index, a collaborative online tool that analyzes and measures maritime security and governance challenges. The index will support coastal states in their efforts to counter illicit maritime activities, reduce violence at sea, and protect ocean resources.
OEF presented initial findings at a side event to the Our Ocean conference on October 4, which featured speakers from the UNODC, Global Maritime Crime Programme, the International Maritime Organization, and the European Maritime Safety Agency.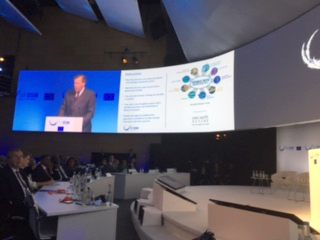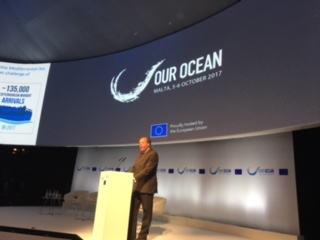 Admiral Sir James Burnell-Nugent, Senior Fellow for OEF's Oceans Beyond Piracy program, speaks on maritime security and the Stable Seas Maritime Security Index at Our Ocean conference on October 5. Photos: Gregory Clough, OEF