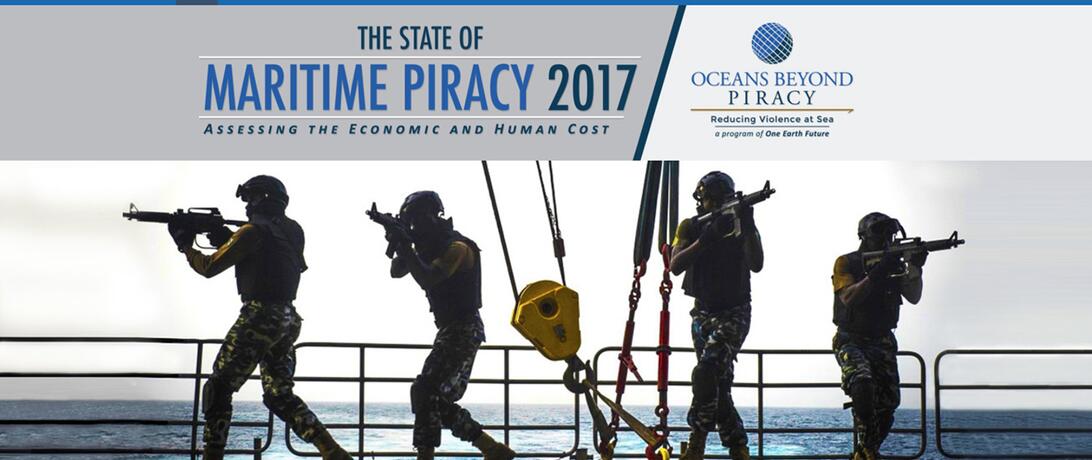 Piracy events off the Horn of Africa doubled last year. Incidents in the Latin America and Caribbean region increased by 160%. Piracy continues to pose a threat in the Gulf of Guinea. Kidnap-for-ransom incidents in Asia decreased by 80%.

Piracy events off the Horn of Africa doubled last year compared to the year before indicating that Somali criminal networks are still capable of sophisticated attacks.
Overall incidents in the Latin America and Caribbean region increased by 160%, indicating the opportunistic nature of actors in the region.
Piracy continues to pose a threat in the Gulf of Guinea despite a broad array of countermeasures implemented by coastal states and maritime security companies.
Kidnap-for-ransom incidents in Asia decreased by 80%, in large part due to the effective cooperation by regional law enforcement actors.
London: Wednesday 23 May 2018:  The number of piracy incidents doubled off the coast of East Africa in 2017 compared to 2016, according the annual State of Piracy report released today by One Earth Future (OEF)'s Oceans Beyond Piracy program. The report analyzes the human and economic impacts of maritime piracy and robbery at sea in the Western Indian Ocean Region, the Gulf of Guinea, Asia, and Latin America and the Caribbean.
"Pirate activity in 2017 clearly demonstrates that pirate groups retain their ability to organize and implement attacks against ships transiting the region," says Maisie Pigeon, the report's lead author.  
Incidents in this maritime space have posed an additional threat to shipping transiting the Gulf of Aden and the Red Sea.   
"There are now a wide range of threats to shipping near the Horn of Africa that have been complicated by the conflict and instability in Yemen," says Phil Belcher, Marine Director of INTERTANKO.  "We are advising our members to consider a more comprehensive security assessment to take into account other threats beyond traditional piracy emanating from the regional conflict in Yemen."
Maritime crime in Latin America and the Caribbean is also on the rise.
"We have observed a significant increase in violent incidents and anchorage crime, particularly in the anchorages of Venezuela and the recent violent incidents off Suriname in the first part of this year," says Pigeon.
Piracy and armed robbery in the Gulf of Guinea continue at persistently high levels. In 2017, 1726 seafarers were impacted in a total of 97 incidents, despite the increased efforts of regional states and contracted maritime security providers. The report shows a US$13.2 million increase on spending by regional states on law enforcement and naval patrols, and that there has been a continued proliferation of contracted maritime security schemes. A South Korean vessel Munmu the Great was re-deployed to the Gulf of Guinea in response to the kidnapping of 3 South Korean fishermen in March. "Kidnap-for-ransom continues to plague the region, which is a trend that has unfortunately continued from 2016" says Pigeon. The report found that 100 crewmembers were taken hostage in 2016.
The piracy situation in Asia improved considerably in 2017, with overall incidents down by over 20% from 2016. Most encouraging was that kidnap-for-ransom attacks decreased from 22 in 2016 to just 4 in 2017. "We believe that much of the credit for this progress is due to the trilateral patrols between the Philippines, Malaysia, and Indonesia," says Gregory Clough, Ocean Beyond Piracy's acting director.
Having assessed the state of global piracy and armed robbery dating back to 2011, OEF has concluded that piracy is just one piece of a number of issues affecting maritime security. Criminal gangs operating at sea have been observed moving between different crimes and can sustain themselves without necessarily resorting to piracy activity.  OEF has observed growing consensus that piracy and other crimes cannot be comprehensively addressed unless the maritime community begins to address the broader issues that create insecurity at sea. 
"Piracy is just one issue in a complex web affecting maritime security," says Larry Sampler, OEF's president. "Where there is good governance seas are safer, coastal communities are healthier, and the blue economies grow stronger. OEF is committed to promoting global maritime security."
For media coordination, please contact Humphrey Pring at [email protected].
For inquiries in the US, please contact Jean-Pierre Larroque at [email protected]
Media Materials
Access the State of Piracy Press Kit here
About One Earth Future
OEF is a self-funded, private operating foundation seeking to create a more peaceful world through collaborative, data-driven initiatives. OEF focuses on enhancing maritime cooperation, creating sustainable jobs in fragile economies and research which actively contributes to thought leadership on global issues. As an operating foundation, One Earth Future provides strategic, financial and administrative support allowing its programs to focus deeply on complex problems and to create constructive alternatives to violent conflict.
About Oceans Beyond Piracy
OEF's Oceans Beyond Piracy program seeks to cultivate a response to maritime piracy, through mobilization of stakeholders in the maritime community, development of public-private partnerships to promote long-term solutions at sea and ashore, and emphasis on sustainable deterrence based upon the rule of law. OBP believes that the solution to the piracy problem must come from within the community of stakeholders and will ultimately be found in addressing root causes on land.
###
key findings, videos, and infographics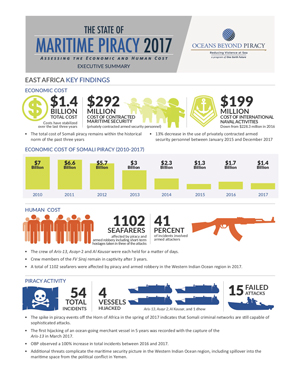 Videos
Crime Knows No Boundaries: Maritime Security in the Gulf of Guinea
The Gulf of Guinea offers many riches, but it also faces a multitude of interconnected maritime security challenges. In order to combat crime the nations around the Gulf of Guinea have organized themselves into a coordinated security effort.
The Aris 13 Attack
In March of 2017, the MT Aris 13 was intercepted by pirates off the coast of Somalia. This was the first successful hijacking of a merchant vessel in the region in five years.
One Earth Future: We Believe
At One Earth Future we believe that solving complex problems facing humanity calls for a fundamentally different way of working together.
Infographics