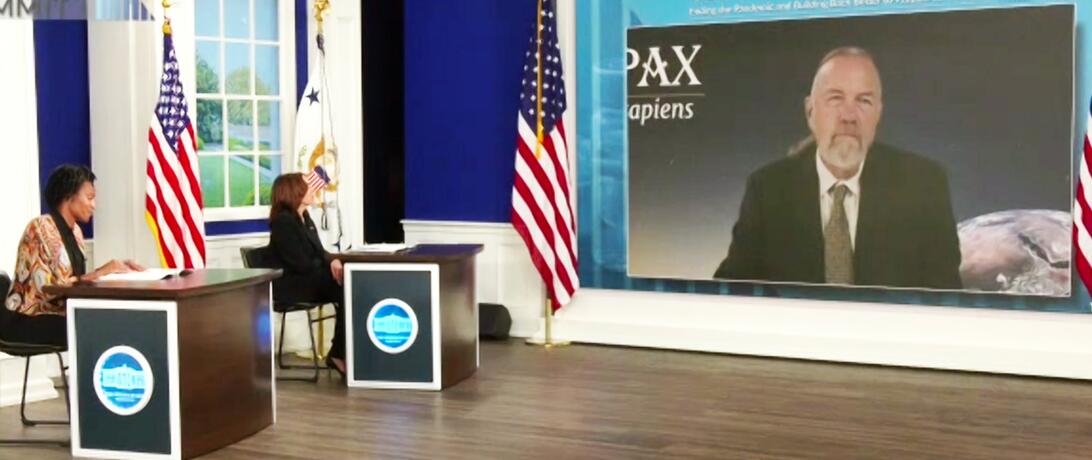 One Earth Future Founder, Marcel Arsenault spoke alongside global leaders including Prime Minister Erna Solberg of Norway and Ellen Johnson Sirleaf, former President of Liberia, as a part of the Biden Administration's global summit on COVID-19.
The panel focused on the Biden Administration's "Build Back Better" program and preventing future pandemics. It was moderated by Vice President Kamala Harris and Ms. Loyce Pace MPH, Director of Global Affairs at the Department of Health and Human Services.
In his remarks, Mr. Arsenault emphasized the need for institutions to think and act for the long term to ensure the prevention of future pandemics. He argued that philanthropy, more than any other sector of society, has the ability to do this. Mr. Arsenault's grant-making foundation, PAX sapiens, committed $200 million to pandemic prevention and challenged other donors to join in the critical effort to create a viable plan with private and public partnership to prevent the next pandemic.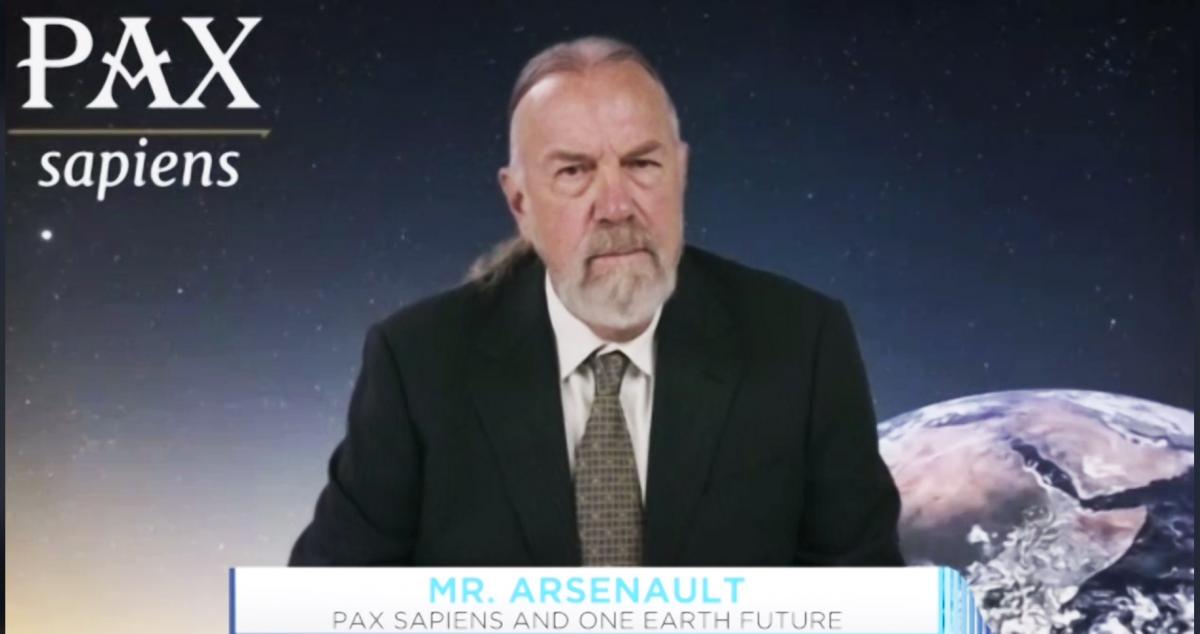 Find the full transcript of the remarks below:
Marcel Arsenault, CEO, PAX sapiens
Remarks prepared for Global COVID-19 Summit: Ending the Pandemic and Building Back Better
September 22, 2021
COVID 19 has demonstrated that the world was not prepared for a pandemic. Humanity had no unified plan. As I see it: seven billion people, no plan.
Fortunately, today marks a turning point. America and others are making a new commitment. Today, at the most senior level there is a determination, a goal, and a call to action
Eventually, an effective plan and effective implementation will require the whole of global society to join together.
The global community is being invited to work together to defeat our most dangerous enemy: the next pandemic. A focus on future pandemics is critical. As destructive as COVID-19 has been, it could prove to be a mere "dress rehearsal" for a far more devastating pandemic.
Philanthropy has a role to play. Philanthropy operates by different rules than government. Philanthropists can commit for the long term. Pandemic prevention may require a decade or more of concentrated effort. Philanthropists can also view problems at the systemic and the global level, not just the national level.
I am happy to announce that in recognition of the critical need facing the world, my board just approved a new $200 million commitment to help prevent future pandemics. We hope to use this funding in partnership with other donors and global institutions to build a better global system.
While $200 million is a big commitment for PAX sapiens, it is only a drop in the bucket. Fortunately, many leading philanthropists have been at the table for a decade, raising concerns about pandemics. They are newly engaged and mobilizing. We call for new donors, like PAX sapiens, to join this effort.
Today's existing global systems have let us down. Existing systems were underfunded, ad hoc, and uncoordinated. Over the next year, our foundation will be hosting a series of convenings encouraging coordination of global donors, in partnership with global experts at all levels. We will try to find points of agreement around funding and strategy for questions like what new institutions are needed, which should be modified, and especially how can we create sustainable funding. Money matters.
We will explore creative financing mechanisms outside of traditional state-based development assistance, even though development assistance will be critical.
We applaud the idea of the financial intermediary fund as a pathway to funding. We encourage funding through the FIF. But any plan will require a broader ecosystem of financial support.
Experts have advised philanthropists that pandemics are absolutely preventable. But prevention requires all hands-on-deck supporting a viable plan. Today, we call on philanthropists and foundations - especially new donors around the world - to join in partnership with governments to come together and decide how the next pandemic will be prevented.
Together, we can do this. Thank you.