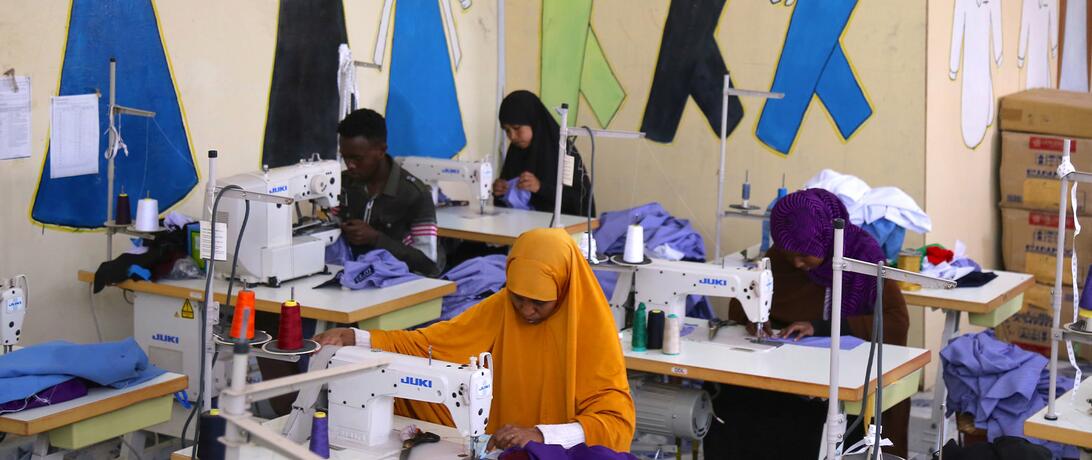 Visionary impact investors in the historic partnership that One Earth Future's Shuraako program has pioneered through its Nordic Horn of Africa Opportunities Fund will meet next week with clients and partners in Somaliland.

The multinational delegation, consisting of senior management officials from the European Union, IFU (Investment Fund for Developing Countries), DANIDA (Ministry of Foreign Affairs of Denmark), and Norfund (Norwegian Investment Fund for Developing Countries), will visit with the entrepreneurs behind some of the Fund's investments and tour their small to medium enterprises, which are flourishing with Nordic Fund support. The delegation is also spending time meeting with the forward-looking government agency officials and fellow Fund partners collaborating with these entrepreneurs to strengthen the Somaliland private sector.
In hosting the delegation, One Earth Future and Shuraako are thrilled to showcase the program's on-the-ground operations in Somaliland, familiarize impact investors with the Somali context in general, and connect investors and entrepreneurs to discuss the hopes, aspirations, challenges, and opportunities with each of the Somali SMEs the Fund has invested in.
"We're excited to welcome our partner investors, said Abdikarim Gole, Deputy Director of Shuraako. "It's an opportunity to demonstrate the exciting impacts the Nordic Fund's investments are making in the Somali region, which are creating a positive return on capital while advancing our goals for strong economic development. We believe this will in turn contribute to sustained peace in the region."
Shuraako's Nordic Horn of Africa Opportunities Fund (or "Nordic Fund") is the first structured impact investment fund in the Somali region deploying risk capital to finance small and medium-sized enterprises ("SMEs") located in Somaliland, Puntland, and South Central Somalia with Sharia-compliant loans and other self-liquidating structures with a focus on job creation and empowerment of female and youth entrepreneurs.
The Nordic Fund - $24 million at third close - is pioneering impact loans as a new development strategy in the Horn of Africa with diversified risk levels, including first loss funding. Results from its investments in the Somali region indicate a significant economic shift through this investment model that moves away from the grant-based funding that has historically been seen in the region. By adding risk capital to the Somali region, fostering entrepreneurship, and creating jobs, the Nordic Fund supports a responsible private sector, creating a sustainable business environment, and promoting prosperity and stability in the region. The fund has distributed 62 Loans totaling $14,774,406.41 (US) with $848,749 (US) invested in women-owned businesses. Ten Sectors are represented in the investment, with Manufacturing, Renewable Energy, Agribusiness making up the largest three sectors. To date, the Nordic Fund loans have created 440 jobs.
With the combined contributions of these investment partners, Shuraako, One Earth Future, and the Fund's partners are building dynamic, secure, and productive markets in the region.
"We are proud to have played a key role in establishing this pioneer fund and impressed with the results that it has accomplished so far in building sustainable businesses that create much-needed jobs in the Somali region. We are thrilled that we can now also be catalytic in attracting additional partners that can finance further growth and increased impact," says Vegard Benterud, investment director in Norfund.
"The Arsenault Family Foundation has a strong belief that partnering with local businesses through the Nordic Fund, creates an opportunity for long-term sustainability for the local economy and increased job growth.  This partnership comes with the expectation that the businesses improve their ability to sustain the environment and improve working conditions by adding health and safety standards for the benefit of their employees.  This creates a win-win for our investors and the local communities we support," says Sharon Eshima, One Earth Future Chief Financial Officer.
Based on Shuraako's prior experience in fund management and the creation of the Nordic Fund in 2018, Shuraako has seen the impacts of this network coordination and data-driven approach through increased social support, stronger regional economies, and a close connection with the end client. The Nordic Fund continues to demonstrate to stakeholders that this is an efficient, sustainable, and successful financial model and an innovative example of partnership in economic development.