From Crisis Comes Collaboration & Innovation
IN THIS ISSUE:
In Memory of Bud Rosenthal
From Crisis Comes Collaboration & Innovation
Women, Peace and Security Bi-Partisan Congressional Caucus
Open Source Intelligence Peace Initiative In Nuclear Risk Reduction
Implementing Peace Agreements by Supporting Ex-coca Growers in Colombia
Community Driven Participation In Fisheries Management Systems
Investing Capital For A Thriving Private Sector In Fragile States
Celebrating Women's Entrepreneurship in Somalia
---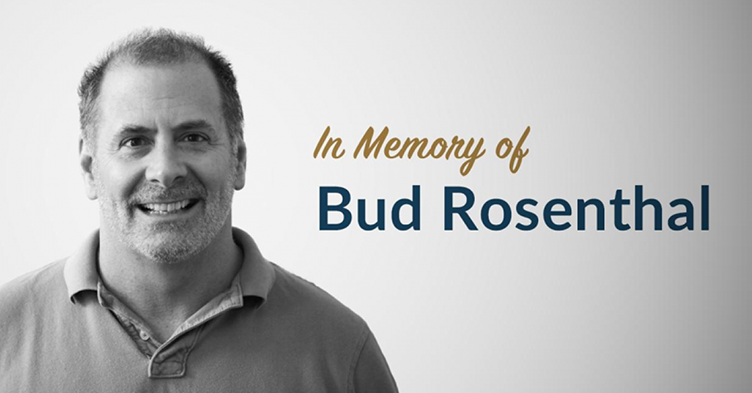 In February, One Earth Future lost a true leader who inspired us all with his expertise, energy and humor. Bud Rosenthal contributed significantly to OEF's work and culture in the relatively short time he acted as Chief Operating Officer for the Foundation, building friendships and helping to facilitate powerful impact.
Read more about Bud's life and legacy
---
From Crisis Comes Collaboration & Innovation
by Jon Bellish, Vice President of Strategy
Back in 2009, during another time of global uncertainty, Jim Collins, management guru and author of Good to Great and Built to Last, told an Inc. (magazine) interviewer, "It is only in times like these that you get a chance to show your strength. In the end, I think we need to have absolute faith in our ability to deal with whatever is thrown at us. We need to be prepared for what we can't predict and, at the same time, have this total, unwavering faith that we will find a way to deal with all of it."
Virtually all of the coverage of COVID-19 and our lives under it has been negative, and rightly so. The human and economic toll this pandemic will have is enormous, and many of our most vulnerable populations will be hit the hardest. I wanted to take a brief moment and mention one silver lining I have noticed through it all, which is near and dear to my heart and at the center of One Earth Future's work around the world: a determined increase and improvement in collaborative problem solving.
It started at the very beginning, with unprecedented levels of organizational transparency when it came to transitioning from in-person to remote work. CEOs shared the tools they were using to make internal decisions, employees forwarded internal policies to friends and colleagues, and concerned citizens made databases of the remote work practices and policies of hundreds of companies. This kind of transparency coupled with the sense of urgency inherent in dealing with a global pandemic led to a proliferation of mutual aid networks and other forms of decentralized problem solving at a scale I have never seen.
Just as the COVID-19 pandemic has shown the limits of rigid, centralized approaches to problem-solving, it is proving that we have the capability to find new ways forward. In capitals around the world, our political leaders are fundamentally re-thinking their approaches to governance. My hope is that they will take these successful examples of collaborative and decentralized problem-solving to heart when doing so.
---
Women, Peace and Security Bi-Partisan Congressional Caucus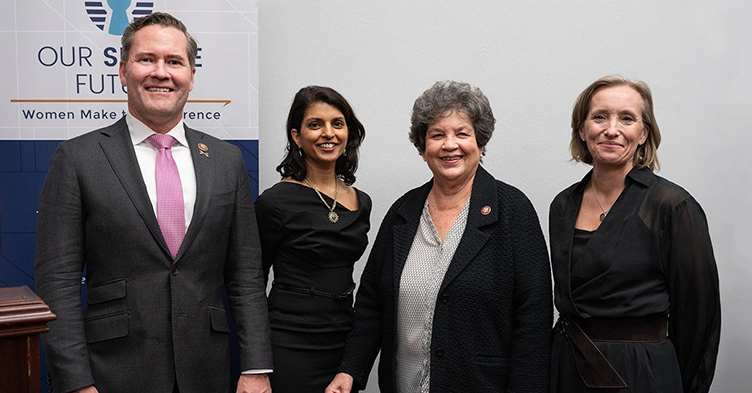 In March, OEF's Our Secure Future program joined Representative Lois Frankel (D-FL, and Representative Mike Walz (R-FL) as co-chairs to the first Congressional Caucus for Women, Peace and Security in Washington D.C.. The caucus will focus on the implementation of the Women, Peace and Security (WPS) agenda and the important role women have to play in conflict prevention, mitigation, and recovery as outlined in UN Security Council Resolution 1325 (UNSCR 1325).
The WPS Caucus will also provide a Congressional platform to raise awareness on issues related to WPS priorities, educate the public and Members of Congress on WPS policy initiatives, exercise Congressional oversight of implementation of the WPS National Strategy, and explore WPS issues related to specific conflicts around the world.
Our Secure Future also recently commissioned a poll of 1,500 registered voters in the United States to get a sense of how they view foreign policy decision-makers, whether they see themselves represented in that arena, and whether they consider themselves to be a feminist.
The results -- while preliminary -- can help guide discussions and provide background for work being done to advance policy proposals around Women, Peace and Security, and a more inclusive foreign policy.
---
Open Source Intelligence Peace Initiative In Nuclear Risk Reduction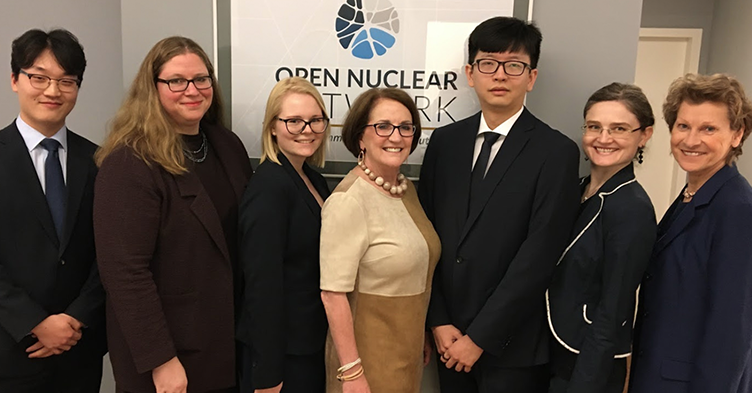 We launched a new initiative called Open Nuclear Network (ONN) in Vienna, Austria. Our new programme has a mission to reduce the risk of nuclear weapons use in response to human or technical error, uncertainty or misdirection. We are currently establishing an Engagement Network composed of high level personnel such as former or future diplomats, military, academics, and scientists who have access to nuclear decision-makers in their respective countries.
Find out more about ONN's Engagement Network and our open source platform Datayo.
ONN joined the European network of independent non-proliferation and disarmament think tanks (EUNPD Network). The Network was created by the European Union (EU) in 2010 to bring together foreign policy institutions and research centres from across the EU to encourage political and security-related dialogue and the long-term discussion of measures to combat the proliferation of weapons of mass destruction (WMD) and their delivery systems.
We have a multinational team of experienced analysts and researchers, and its expert coordination of a global Engagement Network of accomplished individuals who are well positioned to open doors for dialogue among global leaders.
To connect with one of our nuclear analysts, you may do so HERE.
---
Implementing Peace Agreements by Supporting Ex-coca Growers in Colombia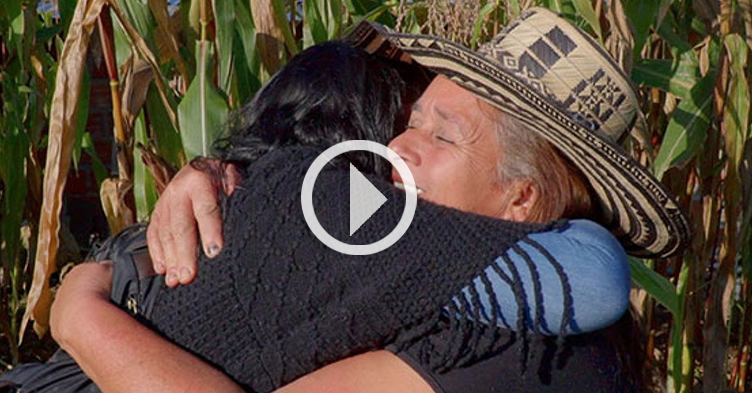 OEF's PASO Colombia program partnered with the University of Notre Dame to continue work on assessing the impact of peacebuilding efforts in Colombia. PASO Colombia's Rural Alternative School and Ex-coca grower Contingency Plan projects provide researchers at the University of Notre Dame unique peacebuilding implementation case studies. In return, researchers from Notre Dame are able to provide their expertise in project evaluations, the development of training materials to support larger scale implementation of PASO's project models, and inclusion of PASO's efforts in a wider analysis of Disarmament, Demobilization and Reintegration (DDR) programs.
In partnership with the UN Multi-Partner Trust Fund for Sustaining Peace in Colombia, and the Colombian Government, PASO Colombia has been implementing a Contingency Plan to Support Ex-coca Grower Families. To date, the plan has provided training and employment opportunities to 1542 women and 425 men registered in Colombia's National Comprehensive Program for the Substitution of Illicit Crops (PNIS, for its acronym in Spanish). The plan, developed in 10 municipalities throughout the country, strengthens value chains that will improve the sustainability of agricultural projects, providing viable alternatives to growing coca crops. The PNIS program is part of the implementation of The Final Agreement to End the Armed Conflict and Build a Stable and Lasting Peace, which considers the solution to the illicit drug problem as a fundamental part for peacebuilding in Colombia.
Stay tuned, on Monday, April 20th, PASO Colombia will launch a Women Seeding Peace - Life After Coca Crops series that features the stories of women striving to build a better future, leaving behind illicit crops and sowing seeds of peace in their territories.
---
Overcoming Security Challenges For Stronger Maritime Governance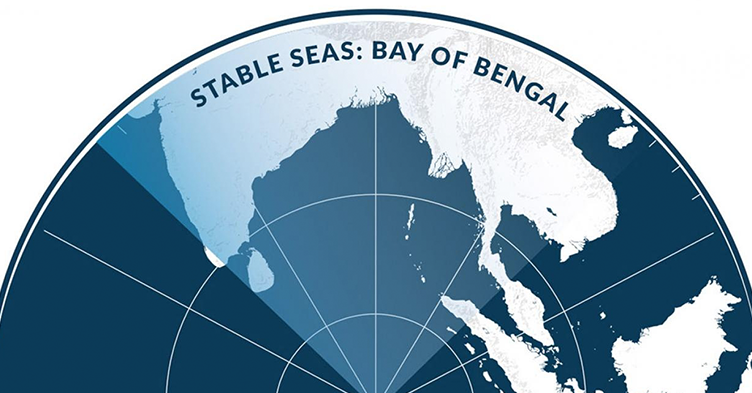 In February, the International Maritime Organization hosted a regional training course on Combating Maritime Security Threats at the Mohammed Bin Naif Academy for Maritime Science and Security Studies in Jeddah, Saudi Arabia. Stable Seas was invited to present on global marine terror threats to coast guard personnel, marine police, and naval officers from all 20 Djibouti Code of Conduct signatory countries.
Our Stable Seas program partnered with the UN Office of Drugs and Crime (UNODC) Global Maritime Crime Programme and the Observer Research Foundation to report on the challenges and opportunities facing maritime security in the Bay of Bengal. The resulting report is unique in that it takes a comprehensive approach to maritime security, examining trends across nine diverse elements of maritime security and governance and focuses largely on the connections between these issues.
Our findings present a clear case that through targeted financial investment, policy implementation, and political will, the region can build collective security and prosperity in the Bay of Bengal.
We are happy to announce the relaunch of our newly expanded Stable Seas Maritime Security Index (MSI). The new edition now covers over 70 countries across Africa, Asia, the Middle East and much of the Indo-Pacific.
---
Community Driven Participation In Fisheries Management Systems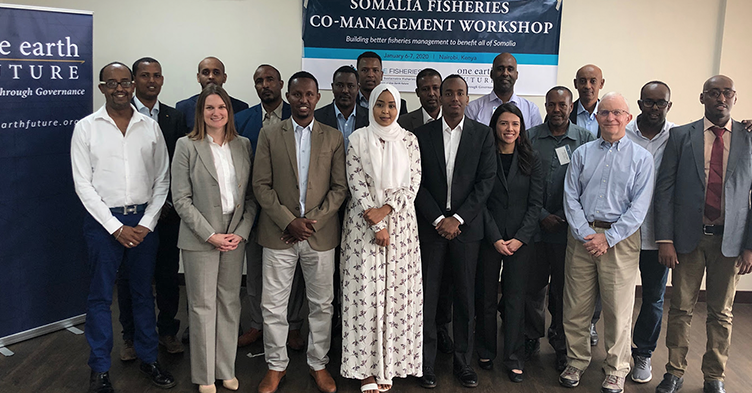 In January, our Secure Fisheries program hosted a two-day workshop that convened representatives from the Federal Government, Puntland, Jubaland, Hirshabelle, and South West State Ministries of Fisheries (Galmadug regretted being unable to attend). Dr. Robert Pomeroy, a fisheries co-management expert with experience in 70 countries, trained the group in the process of co-management. The workshop generated lively discussion about the state of fisheries and current gaps in fisheries management in Somalia, the latter of which risks the depletion of important fish stocks which are critical for coastal livelihoods. Participants agree co-management could be an effective tool for stronger fisheries management in Somalia, and they are working to incorporate it into federal and state policies and planning. Following the workshop, participants committed to developing one new co-management unit in each of the Somali regions.
Project Kalluun is a partnership between Secure Fisheries and local Somali universities that improves fisheries data collection in the Somali region by training students. Following a successful pilot project with City University in Mogadishu, Project Kalluun has expanded to the Berbera Maritime and Fisheries Academy, Kismayo University, and East Africa University in Bosaso.
Secure Fisheries' most recent report, Rough Seas: The Causes and Consequences of Fisheries Conflict in Somali Waters, explores the frequency, intensity, and drivers of fisheries conflict in Somali waters between 1990 and 2018. We find that the presence of the international community—both warships and fishing vessels—is one of the major causes of maritime instability and fisheries conflict.
The report was also featured in Hakai Magazine: How Rampant Illegal Fishing Is Destabilizing Somalia.
---
Investing Capital For A Thriving Private Sector In Fragile States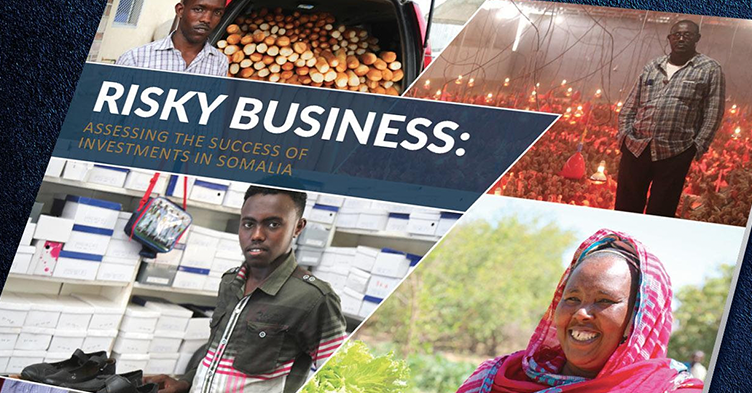 In partnership with the Alliance for Peacebuilding, OEF Research released a working paper version on the implementation of the Global Fragility Act.
The Global Fragility Act is a recently-passed bill that is intended to restructure how the US government approaches peacebuilding and the prevention of armed conflict. It directs the primary US entities working on these questions - the Departments of Defense and State, and USAID - to work together to develop a coordinated strategy and identify specific countries and regions to prioritize.
OEF Research's latest report, Risky Business: Assessing The Success Of Investments In Somalia, uses data on our Shuraako program's unique model to analyze how business operations and profitability in Somalia have been affected by armed conflict and the presence of large-scale international development aid. The report finds that by far, increased access to capital plays the largest role in increasing business revenues.
---
Celebrating Women's Entrepreneurship in Somalia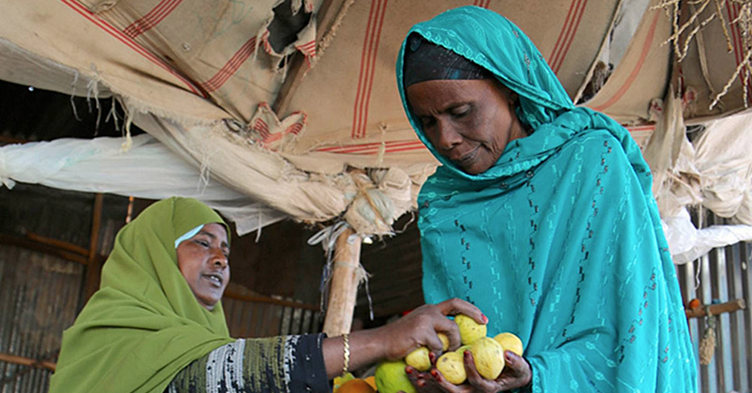 OEF believes that women play a vital role in sustaining a more peaceful world. Despite the persistent barriers to women's leadership in the economic development sector, we know that equal access is key to ensuring a prosperous future if communities want to thrive.
Our Shuraako program has facilitated financing for 27 women entrepreneurs since it began fund management services in 2013, and has guaranteed loans totaling $296,831 to date. Our Shuraako model has created more than 842 jobs, and has provided over 250 entrepreneurship development trainings for women.
Women entrepreneurs are key contributors to the private sector and Shuraako is committed to providing the necessary support and ecosystems needed to empower them. Providing inclusive access to capital and business training is crucial to strengthening economic impact and job growth in local communities.

Learn more about how Shuraako and other One Earth Future programs are incorporating gender into our work.
---
About Us
One Earth Future Foundation fosters sustainable peace by partnering with innovative world leaders, global development agencies and communities to see complex problems at the root of armed conflict in new ways and solve them together through orchestrated collaboration.
Join the OEF team: See our available positions here.