Has the G20 Moved from Efficiency to Legitimacy?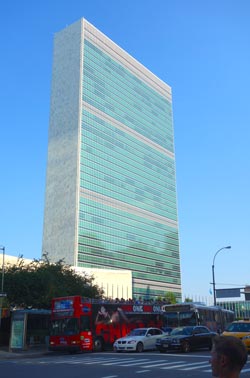 On Tuesday July 8, 2014, OEF, institutional host of the journal Global Governance, launched the first in a series of lunchtime discussions in New York that will bring together scholars and policy makers to share information and forge new partnerships.
The purpose of this event was to discuss an article recently published in Global Governance 20(2) titled, "Re-Balancing the G-20 from Efficiency to Legitimacy: The 3G Coalition and the Practice of Global Governance." The article's authors, professors Andrew F. Cooper and Bessma Momani gave brief remarks that were followed by a lively discussion with representatives from the 3G and the G-20, as well as other scholars interested in this topic to discuss the research findings and future steps for the 3G in its relationship with the G-20.
Although the G-20 was applauded for taking a leading role in stabilizing the financial crisis when other international institutions could not, it faced criticism from states left out of the G-20 process. The 3G (Global Governance Group) offered a way to better align the G-20's efficiency with greater legitimacy by, "acting as a forum that allows the G-20 to respond to the concerns of non-members without, notably, requiring significant changes to current institutional arrangements."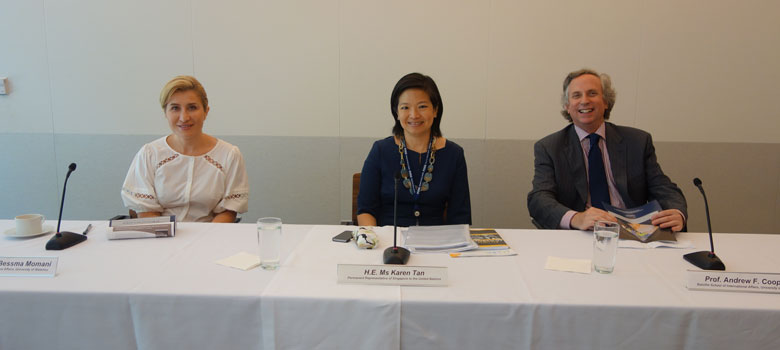 The discussion was co-sponsored by the Academic Council of the United Nations System (ACUNS). It was moderated by the Singaporean Ambassador to the UN, Karen Tan, and held at the Singaporean Mission.
For more information about the findings of the research, please read our policy brief. If you would like to know more about the discussion series, please email Global Governance's managing editor, Roberta Spivak.
For subscription information to Global Governance so that you can access this paper and many other articles on current global issues, please go to Lynne Reinner Publishers.