White House Implements Women, Peace & Security Act Measures as US Foreign Policy Priorities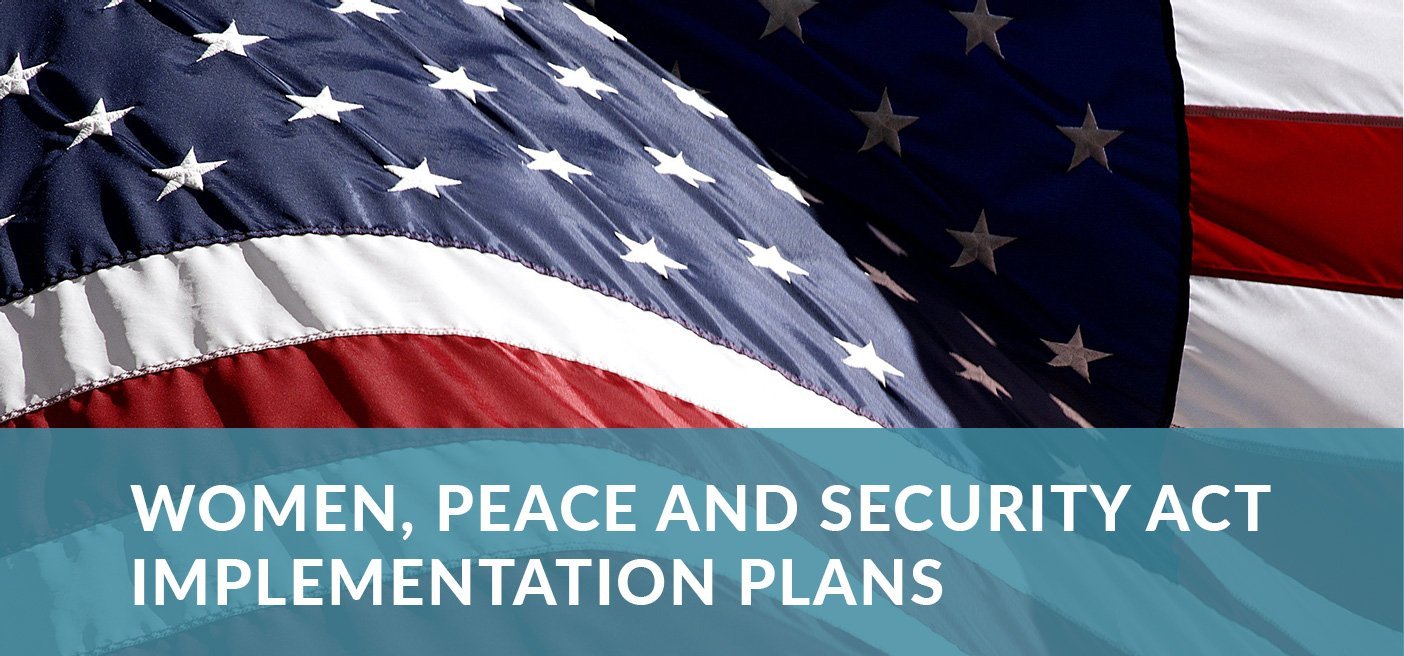 Washington, DC; Denver, CO -- Today, in a critical step toward elevating the Women, Peace and Security Act (WPS) goals as a key foreign policy priority, the Department of State, the Department of Defense, the Department of Homeland Security and the U.S. Agency for International Development released their WPS implementation plans as mandated by the Women, Peace and Security Act (P.L. 115-68).
The plans outline steps the US Federal Government is taking to enhance women's role in preventing, resolving, and recovering from conflict. A statement released by the White House today lists the following advances government departments are taking to implement the WPS Act:
The Department of State is modernizing foreign policy and assistance tools to enhance policies and programs to increase women's meaningful participation in decision-making, protect against gender-based violence, and counter violent extremism.
The Department of Defense is promoting the safety of women and girls during conflicts and crises, and improving gender equality and empowerment in the security sector.
USAID is strengthening its work to invest in programs that promote women's leadership and empowerment in order to break through conflicts that hinder developmental progress and threaten global security.
The Department of Homeland Security is working to support the Department of State and USAID in implementing their internationally focused strategies, in addition to other measures.
The release of the new Women, Peace and Security implementation plans, is a reminder that stability and development operations are now required to pay close attention to these issues in everything from proposal bids to the design, implementation, and monitoring and evaluation.
OEF's Our Secure Future Director Sahana Dharmapuri noted, "Let's not forget that the WPS agenda originated with women in civil society, and now civil servants must operationalize it. This will require training, funds, and political will to get it right--and regular consultation with civil society. We think that the bipartisan WPS Caucus will play a critical role in the successful implementation of the WPS Act. We're honored to be a part of this historic movement for women's rights and peace."
The WPS Congressional Caucus was launched in March, chaired by Representative Lois Frankel (D-FL) and Representative Mike Walz (R-FL), with support from Our Secure Future. The Caucus aims to ensure that the goals stated in UN Security Council Resolution 1325 and the Women, Peace, and Security Act of 2017 are considered national security and foreign policy priorities for the United States.
In speaking about the importance of these measures and the timeliness of the WPS Congressional Caucus launch earlier this year, One Earth Future's VP of Strategy Jon Bellish stated, "I'm glad the Caucus was established earlier this year, since it can provide a political center of gravity within the US through which these plans become reality."
One Earth Future and its Our Secure Future department are committed to working with the administration and the U.S. Congress on the robust implementation of a holistic WPS agenda, both internationally and domestically.
###
---
Our Secure Future: Women Make the Difference (OSF) is a department of the Colorado-based One Earth Future Foundation. OSF works to strengthen the Women, Peace and Security movement to enable effective policy decision-making for a more peaceful world. The One Earth Future Foundation is an incubator of peacebuilding programs, working hand-in-hand with communities, governmental leaders and development agencies globally to solve complex problems at the root of armed conflict through orchestrated collaboration.