OEF's Lindsay Heger Calls for a Data Revolution
DENVER, [November 5, 2014] – What are the most pressing questions and challenges we face today when it comes to human security? Dr. Lindsay Heger, a local political scientist and Associate Director of Research, addressed this issue in a presentation hosted by the Denver Council on Foreign Relations on November 4th.
The talk, entitled "Human Security in Today's Context," highlighted some tough questions, such as what factors predict conflict and how we manage conflicts and post-conflict reconstruction. While there has been a shift in recent years to more "evidence-based policy", Dr. Heger stresses we are still too often hampered by a lack of basic data – data that we need to monitor, assess, and theorize political conflict. Thirteen years after the Millennium Development Goals were set out, for instance, a UN Communiqué reported a lack of basic data on social and economic circumstances.
Without an accurate picture, unreliable information leads to urban myths. "These myths have been perpetuated in the media and at international institutions," says Dr. Heger, "some for many years, and all premised on the notion that war is out of control."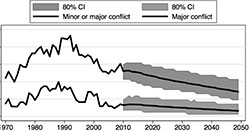 Dr. Heger pointed out that recent research has actually been showing a historical trend to a more peaceful time. What we need to learn more about is why these trends occur, and what the connections really are between conflict and things like development indicators.
"When we dig into the data, our findings are imprecise and have unclear implications. In order to understand conflict trends, we need better data, and we also need to be more cautious about claims of epic proportions."