The Gray Spectrum | Ethical Decision Making with Geospatial and Open Source Analysis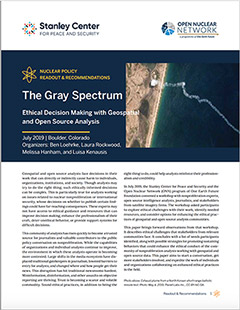 Authors: Open Nuclear Network & Stanley Center
Date of Release: 28 January 2019
Publication Type: Report
Keywords: geospatial, ethics, nuclear weapons, OSINT, open source analysis, satellite imagery, remote sensing, nuclear risk reduction, GIS
Download Report Now
Overview
Researchers and analysts working outside of governments are now able to make remarkable contributions to international security using publicly available satellite imagery. While the open source community has a growing toolbox of technical skills, analysts often lack guidance or a support network when they come across ethical dilemmas. Open Nuclear Network & the Stanley Center convened some of the world's top open source analysts to address these issues.
Key Findings
A code of conduct could serve as a unifying best practice among non-government open source analysts and increase accountability.
The community has a strong desire for "ethical education" to provide resources and frameworks for answering ethical dilemmas.
Peer support groups can help individuals facing dilemmas, but they will need resources to organize.