Women's Inclusion
One Earth Future (OEF) prioritizes diversity, inclusion and belonging, not only throughout our offices and staff teams, but also within the programs we operate globally.
We believe that in order to be successful both as an organization and as drivers of change in our mission to build sustainable peace worldwide, we must be relentlessly proactive in creating enabling environments that foster a feeling of empowerment and belonging among our communities. We are committed to building a culture of inclusivity and equality as part of our operational values.
One Earth Future's Perspectives on Peace video series spotlights some of the powerful women leaders across our program teams, lending their voices and dedicating their talents to building sustainable peace and a more equitable world for all.
Today, it is well documented that women's empowerment and gender equality are critical to achieving peace and stability around the world. The full and meaningful leadership, empowerment, and protection of women is essential to resolving deadly conflict and building stable, prosperous, and just post-conflict societies. Yet gender equality continues to be overlooked in related projects and policies. At a minimum, incorporating gender perspectives is necessary in order to avoid unintentionally exacerbating inequality. At One Earth Future Foundation (OEF), incorporating a gender perspective means considering the different experiences, priorities, needs, and values of women, men, girls, boys, and nonbinary persons and taking into account how these different experiences will impact the success or failure of every program and funding decision at OEF. It promotes gender equality and supports programmatic goals from sustainable resource management to preventing violence and war.

- Peace Is Not Possible Without Women 2019 Report.

Download our brochure for a deep-dive look into the direct tie between our programs, peace, and women's inclusion. Here's why this is a focus for us here at OEF.
Our Secure Future
Advancing the Women, Peace and Security Agenda
One Earth Future's Our Secure Future program works to build a more peaceful world by ensuring women's full participation in governance worldwide. That means strengthening the Women, Peace and Security agenda. Their three key areas of opportunity to strengthen the global Women, Peace and Security agenda are:
Amplifying women's voices
Strengthening the global network of women peacebuilders
Promoting committed action by multiple stakeholders to turn policy into practice
To learn more about OSF specifically, visit their program website.
Watch more OSF videos here.
Other Resources: What Else Are Our Programs Doing Around This Issue Area?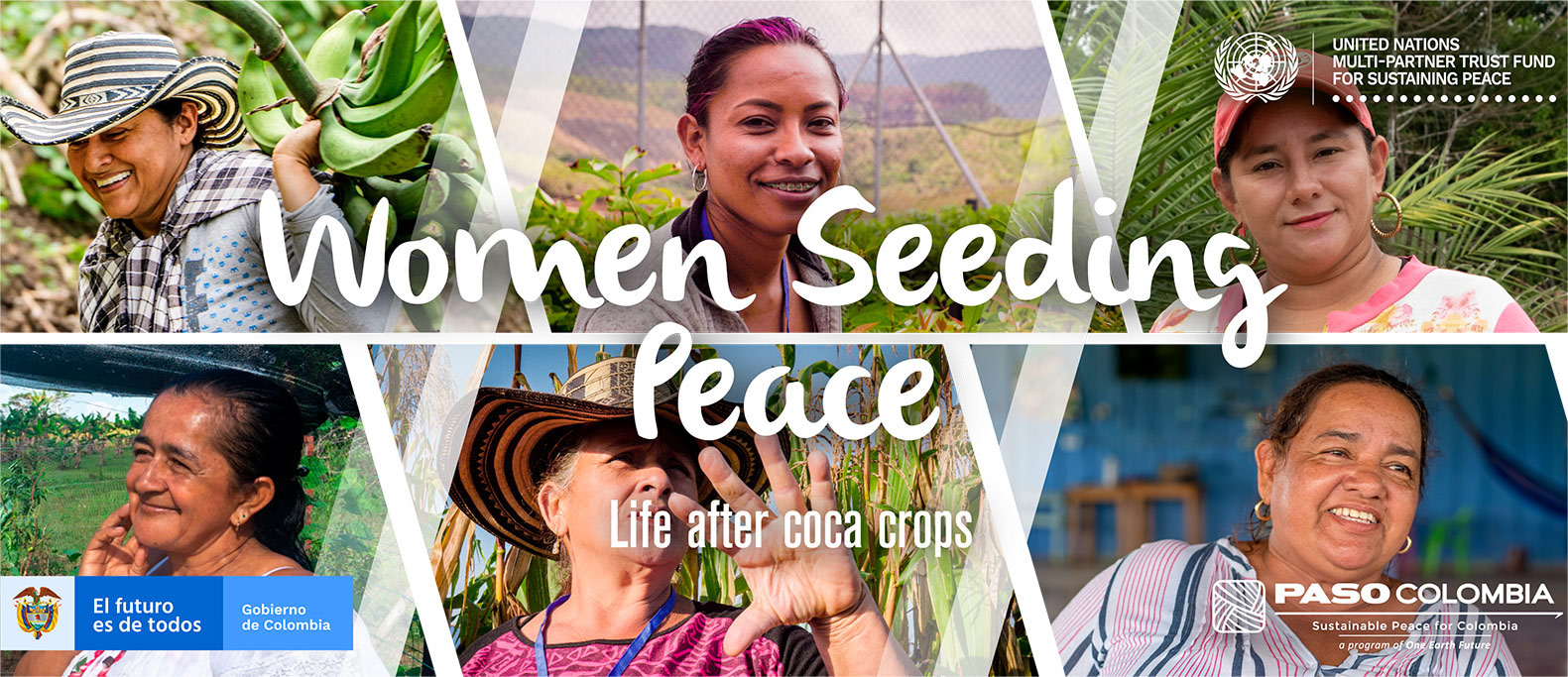 Women Seeding Peace
Women Seeding Peace is a web video series created by One Earth Future's PASO Colombia program. The series presents stories of transformation, sharing the lives of women who have left illicit crops behind to sow a new future of peace in their communities. These women have participated in PASO's Contingency Plan To Support Ex-coca Grower Families, which has assisted 1,967 families in a national program critical to the implementation of the Peace Agreement.