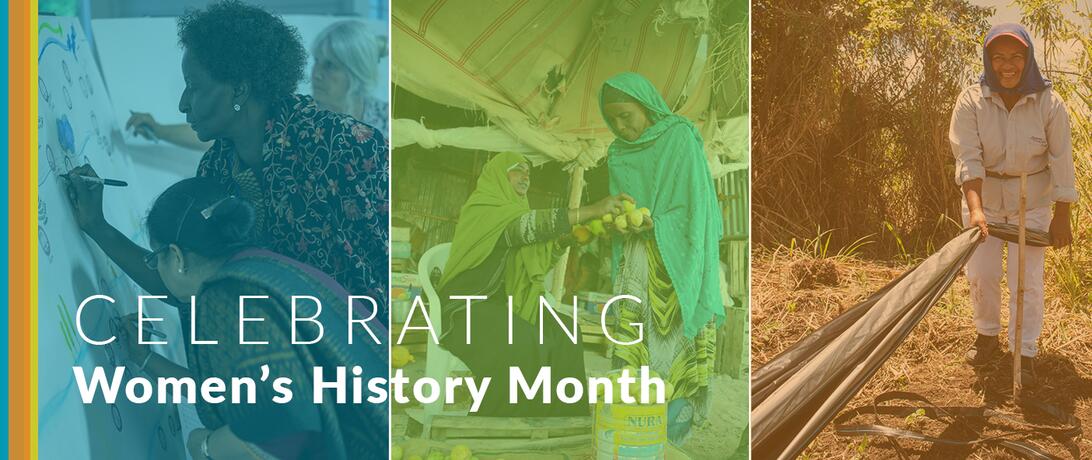 It is well documented, today, that women's empowerment and gender equality are critical to achieving peace and stability around the world. The full and meaningful leadership, empowerment, and protection of women is essential to resolving deadly conflict and building stable, prosperous, and just post-conflict societies. We celebrate and support women and their male allies around the world who are working together to make that a reality. Happy Women's History Month!

Celebrating International Women's Day on March 8 and Women's History Month in the US throughout the month, it's important that we recognize the crucial role women play on the path to sustainable peace.
Introducing the Perspectives on Peace Series 
We're honoring Women's History Month by amplifying the voices of some of One Earth Future's amazing women peacebuilders making a difference in their communities. That's why we're kicking-off our Perspectives on Peace video series this month with some of our powerful women experts across the globe.
Perspectives on Peace is a spotlight series elevating some of the different voices, experiences, and expertise across our seven programs and highlighting their dynamic individual stories that contribute to our greater mission of peacebuilding. Our first inaugural episode features Cynda Collins Arsenault, Co-Founder of One Earth Future and head of our Our Secure Future (OSF) program, sharing how she became involved in the mission for women's inclusion in peace and security issues, as well as some of the powerful women role models throughout history that have helped us get where we are today. 
"So what value do women add? Well, women bring a different skill set, and you can't solve the problems of the world with the same mindset that created them. War, for example, has traditionally been a male dominated domain. By bringing women into the process in all aspects, whether that's economic, healthcare, politics, etc...women add their unique perspectives, which gets us to better solutions in the long term," shares Cynda Collins Arsenault.
You can also catch the Perspectives on Peace episodes of OSF Director, Sahana Dharmapuri, and OSF Program Manager, Erin Cooper, below. 
Visit our full playlist to see more of our women peacebuilders that are making a difference in Somalia, Vienna, Colombia, and right here in the US.
Involvement in the 2021 World Denver International Women's Day Event
This 2021 International Women's Day, two of our programs, Open Nuclear Network and Our Secure Future, were asked to speak at World Denver's International Women's Day event with a theme of women in national security. OSF's founder, Cynda Collins Arsenault, was invited to welcome participants with opening remarks. OSF Director Sahana Dharmapuri and ONN Director Laura Rockwood also offered their congratulations and appreciation to women who work to advance national security via video.
Highlighting the accomplishments and power of women in defense, public health, aerospace, intelligence, and diplomacy fields from around the world, the theme for IWD 2021 is Women in National Security and our program leaders welcomed the opportunity  to engage with the extensive pool of women who are leading the way in this sector. World Denver's goal is to highlight the accomplishments and power of women in defense, public health, aerospace, intelligence, and diplomacy fields from around the world.
Our Program Work Fostering Women's Inclusion 
One Earth Future's Our Secure Future program works to strengthen the Women, Peace and Security (WPS) agenda through efforts to build a more peaceful world by ensuring women's full participation in governance. But OSF is not the only One Earth Future program working to bring women into the peace conversation. So we invite you to check out our other program resources around women's inclusion and equity in local communities. 
Also check out:
The Importance Of Women's Empowerment & Gender Equality
Women's empowerment and gender equality have ripple effects on peace and stability. However, women around the world continue to be overlooked in projects and policies. For this reason, One Earth Future and its programs deliberately incorporate gender sensitivity into our work. Gender mainstreaming is a best practice employed across inter-governmental and non-governmental organizations to promote the integration of a gender perspective across all efforts to support t programmatic goals that range from sustainable resource management to countering violent extremism. 
"Incorporating a gender perspective means considering the different experiences, priorities, needs, and values of women, men, girls, boys, and nonbinary persons and taking into account how these different experiences will impact the success or failure of every program and funding decision at OEF. It promotes gender equality and supports programmatic goals from sustainable resource management to preventing violence and war," according to our Peace Is Not Possible Without Women 2019 Report.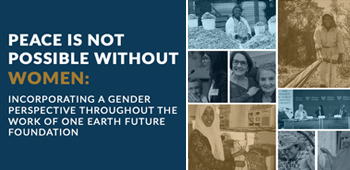 Download our deep-dive look into the direct tie between our programs, peace, and women's inclusion.
Visit our Youtube Page to see more of our Perspectives on Peace series. 
Happy Women's History Month, everyone!