Launch of the Congressional Women, Peace and Security Caucus

Co-Chairs of the new Congressional Women, Peace and Security (WPS) Caucus, Representative Lois Frankel (FL-D) and Representative Mike Walz (FL-R), hosted a formal Caucus launch on March 9th, followed by a reception sponsored by Our Secure Future, whose mission as a department of One Earth Future Foundation, strives to incorporate women's perspectives and gender equality to all aspects of international peace and security decision-making.
Congressional Co-Chairs of the new Caucus shared that the newly-established Women, Peace and Security (WPS) Caucus seeks to ensure that the WPS goals stated in the U.N. Security Council Resolution 1325 and in the Women, Peace and Security Act (P.L. 115-68) are considered national security and foreign policy priorities for the United States in our bilateral and multilateral relations, discussions, and agreements.
The WPS Caucus provides a congressional platform to raise awareness on issues related to WPS priorities, educate the public and Members of Congress on WPS policy initiatives, exercise Congressional oversight of implementation of the WPS National Strategy, and explore WPS issues related to specific conflicts around the world.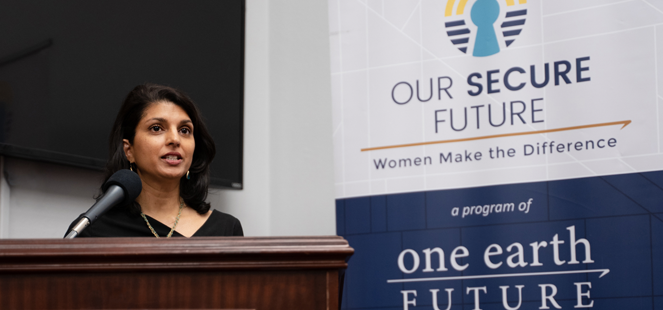 "We are thrilled with the work of Rep. Frankel and Rep. Walz and their teams in bringing this Caucus forward... Peace agreements last longer, economies are more stable and democracies flourish when women participate fully. This caucus will help us make sure we're getting that right, and achieving better national security outcomes for our country."

Sahana Dharmapuri - Director of OEF's Our Secure Future program
Read More about the Caucus from Our Secure Future Director, Sahana Dharmapuri
Read the Caucus launch Press Release
Visit the WPS Caucus landing page
About One Earth Future Foundation
One Earth Future Foundation (OEF) is a private non-profit foundation established and funded by Canadian philanthropist Marcel Arsenault and his wife, Cynda Collins Arsenault in the US State of Colorado in 2007. The Foundation is committed to fostering sustainable peace by partnering with innovative world leaders, global development agencies and community leaders to see complex problems at the root of armed conflict in new ways and to solve them together through orchestrated collaboration. OEF holds ECOSOC Special Consultative Status with the United Nations. Other One Earth Future Foundation initiatives designed to prevent or end violent conflict and build sustainable peace globally include Shuraako, Secure Fisheries, Paso Colombia, Open Nuclear Network, Stable Seas, and the eXperimental Negotiation Initiative (xNI).

For more information contact One Earth Future Director of External Affairs, Kara Nichols or Our Secure Future Director, Sahana Dharmapuri.