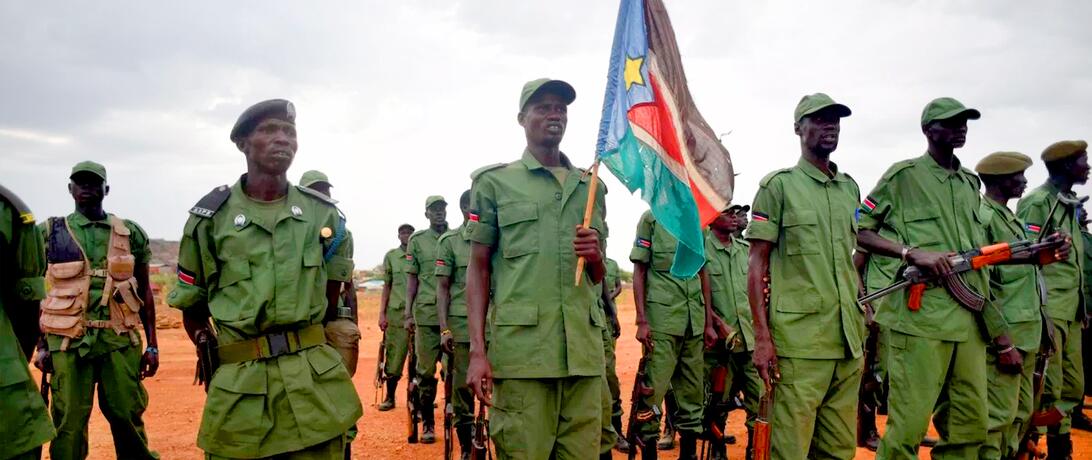 As the civil war in South Sudan enters its fifth year, the international community continues to struggle to establish a negotiated settlement to end the conflict.

This is the second of a series of blogs that complement the book African Actors in International Security: Shaping Contemporary Norms. The book is a One Earth Future supported project evolving out of a call for research surrounding the role of southern regions in norm creation and contestation in an African context. This blog series explores a sampling of the themes addressed in the volume and provides further commentary on the ways African actors have contributed to the development of international peace and security norms.
As the civil war in South Sudan enters its fifth year, the international community continues to struggle to establish a negotiated settlement to end the conflict. The international community, largely defined by the troika of the United States, Great Britain, and Norway as well as African regional organizations (such as the Intergovernmental Authority on Development, or IGAD), has been working since the violent collapse of the 2015 Comprehensive Peace Agreement to restore order to South Sudan. There are new signs of hope as President Salva Kiir and rebel leader Riek Machar meet to discuss renewed negotiations. Yet, peace appears to be elusive for the world's youngest country.
South Sudan represents an unsettlingly common problem for the international community: despite significant international pressure, many actors are unable to successfully mediate an end to armed conflicts. This may be the result of the fact that much of the academic work on the success of international mediation fails to include practical prescriptions for ending armed conflict. In particular, past academic work may be focusing too much on the inclusion of biased mediators during negotiations. New work by Gilbert Khadiagal breaks from previous research by focusing on the role of elder statesmen in fostering successful mediation in civil wars. Specifically, Khadiagal suggests that these actors play a key role by serving as credible negotiators given their experience as leaders and diplomats. These actors may prove crucial in resolving South Sudan's civil war.
Outside of researching when mediation may be more or less successful, scholars have also explored the attributes of mediators as a way to explain why some negotiators are more effective than others. In particular, past research has identified the efficacy of biased mediators in bringing conflicts to a close. A key barrier to the settlement of civil wars is the credible transfer of information. Wars often persist because of asymmetries of information, where combatants often conceal information or offer misinformation as a way to get a better deal at the negotiation table. For instance, one or both sides may conceal information as to their relative strength, resolve, or the terms they are willing to accept in order to end the conflict. Equally, disputants are often unwilling to trust one another given the fact that both sides have an incentive to misrepresent information to get a better deal. Third-party mediation is intended to address this problem by facilitating the transfer of information between disputants. Unfortunately, mediators may be perceived as unreliable. For instance, unbiased mediators may be perceived as insincere as they may be willing to say anything to bring the conflict to a quick conclusion. On the other hand, biased mediators (mediators who have an affinity for one side and a preference over the terms of the settlement) may be perceived as more credible in the transfer of information, as they are unwilling to sign off on an agreement that may threaten the interests of their protégé (either the government or the rebel group).
Unfortunately, it may not always be practical for the international community to solicit help from biased governments. For instance, governments that support particularly murderous rebel groups may deny any connection to their protégé so as to avoid international condemnation. Equally, it may be difficult for both parties to readily accept a biased party at the negotiation table, preventing negotiations from starting in the first place. This creates a conundrum for the international community as to which actors may assist in effectively ending civil wars through mediation.
In the new edited volume African Actors in International Security, Khadiagal suggests that elder statesmen may assist in the mediation process by acting as credible negotiators at the bargaining table. These elder statesmen (and women) may be former heads of state, or they may also be career diplomats engaged with regional affairs or notable actors within civil society. As opposed to generating their credibility from bias, Khadiagal suggests that these statesmen are perceived as credible given their experience managing their own countries or because of their reputation in regional politics. Outside of their professional reputation, elder statesmen may also draw on their moral authority to offer credible information during negotiations. For instance, Nelson Mandela played a key role in negotiating the 2000 Arusha Peace and Reconciliation Agreement in Burundi. Leveraging his moral authority, Mandela was able to offer meaningful critiques of the Burundian government's behavior. This was feasible for this former president because he was perceived as an honest broker between parties. While moral leadership is certainly an asset, it is not a necessary condition for elder statesmen to succeed in assisting mediation.
These dynamics are playing out in current attempts to resuscitate negotiations in South Sudan. President Yoweri Museveni of Uganda has played a vital role in spurring the onset of negotiations throughout the conflict (particularly in setting up the failed 2015 agreement). Though ostensibly Museveni may be perceived as biased toward the government of South Sudan, he has also hosted the offices of the Sudan People's Liberation Movement-in-Opposition in Kampala. It is difficult to imagine that the civil war in South Sudan will end without the assistance of this elder statesman.